Environment
At Asahi Beverages, we acknowledge the strong link between our raw materials and the environment from which they are sourced. Turning natural resources into high quality beverages for the enjoyment of our consumers is what we do, and in doing this, we are committed to minimising our impact on the environment.
Environmental management
Our Environment Policy sets out our company commitments and strategies. Our environmental plans aim to improve performance in each of the areas identified in our policy, and we have developed environmental performance indicators and set targets to help drive continuous improvement.
Our environmental commitments:
Compliance: Meet our environmental legislation and other relevant obligations.
Accountability: Provide our people with the skills and knowledge to uphold our environmental responsibilities.
Management of systems: Implement and operate an effective environmental management system.
Improving environmental impact: Identify all points where we impact the environment and take action to eliminate, minimise or mitigate their impacts.
Continual improvement: Establish, measure and review objectives and targets to continually reduce our impact on the environment.
Our first and most critical policy commitment is compliance with our environmental legal obligations. In 2018 Asahi Beverages had no prosecutions, fines or penalties related to breaches of environmental regulations.
We have implemented a formal Environmental Management System (EMS) to manage our impacts on the environment and drive continuous improvement in our environmental performance. We have committed to achieving external EMS certification (ISO14001) at our manufacturing sites. So far, seven of our manufacturing sites have achieved certification.
Climate
We are aligned to our parent company's ambition of being Carbon Zero by 2050. We acknowledge that this is an ambitious target, and we are working on our local roadmap to be able to achieve this in time. Our focus for 2019/20 is on reducing our carbon intensity by 2% from previous year actuals.
Our pledge to TAKE2: The Victorian Government's TAKE2 initiative sets ambitious targets for the State to reach net zero emissions by 2050 and help keep temperature rise to under two degrees. In 2018 Asahi Beverages took the TAKE2 pledge as one way to show our commitment to tackling climate change.
An efficient commercial fleet: Fuel efficiency is a major consideration when selecting the car fleet for our sales team. We have been progressively rolling-out a more fuel-efficient fleet of commercial vehicles, including some hybrids.
Energy efficient fridges: We're helping our customers reduce energy and costs with improved energy efficiency of our fridge fleet. Prior to 2009 a two-door fridge consumed approximately 14kWh/day. Through improvements in fridge technology this has been reduced to approximately 4.8 kWh/day. This represents a 65% reduction in the energy requirements of customer fridges.
Energy efficient lighting: Our manufacturing and distribution sites have progressively implemented energy efficient lighting solutions, each running with a slightly different approach to suit site requirements. More recently upgrades have been completed at our Laverton, Tullamarine and Albury sites replacing more than 1,200 high-bay lights, reducing carbon emissions by 2,600 tonnes, and saving approximately $250,000 in electricity costs.
Energy efficiency and renewables: We continue to explore renewable energy opportunities, such as Solar Photovoltaic. In 2018 our Prospect Distribution Centre landlord updated the site's lighting to energy efficient LEDs and installed a 100-kilowatt roof-top solar PV system.
Another solar installation 100kW system has been operational at our Huntingwood manufacturing site since 2008, which has generated more than 780 MWh of electricity over its life so far.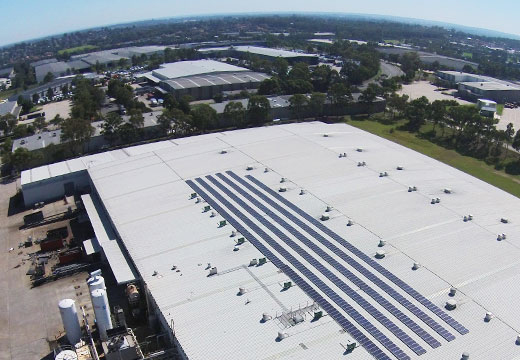 Huntingwood solar panels on main production building
Water
Water is essential to our business. It is a key ingredient in our products, is used in our manufacturing processes and supports the cultivation of raw materials across our value chain.
We continually investigate where and how water is being used throughout our manufacturing processes to identify ways to reduce our water usage.
Our focus for 2019/20 is reducing our total water consumption and water intensity at our manufacturing sites by 2% from previous year actuals.
We measure water usage across our business, benchmark our manufacturing sites and set intensity targets, that is, the amount of water used to manufacture one kilolitre of our product.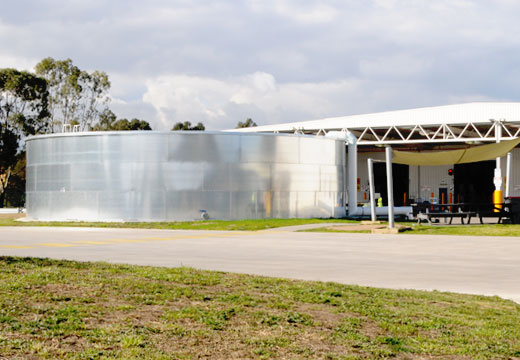 Rainwater collection tank at our Tullamarine site
Waste
The generation of waste is a significant environmental issue. Generating waste represents inefficiency, consumes resources, contributes to greenhouse gas emissions and can impact on biodiversity and ecosystems.
Our business recycles approximately 90% of all waste across its manufacturing, warehouse, technical and office sites. Since 2014 our total business landfill intensity has also improved by 20%.
We support Zero Waste to Landfill initiatives. In 2019/2020 our focus is on auditing our sites to understand where we can make improvements, and then educating our workforce on how to implement improvements.
We strive to reduce waste to landfill by setting targets and regularly monitoring performance. As with our other key environmental metrics, our waste target is based on tonnage of landfill for every kilolitre of production.
Packaging
Packaging is important for ensuring that we are able to get our products safely and in good shape to consumers. We are focusing on reducing our impact on the environment through improved packaging design, increasing the use of recycled content, and helping to repurpose packaging into other useful products.
Our main forms of packaging include plastics, aluminium, glass and cardboard. We have prioritised plastics as our initial focus area.
We will make a difference, enriching the communities in which we live by changing our attitude to the use of plastics.
Our desire is to find ways to create a circular economy within Australia and New Zealand, particularly in relation to PET. This will require us to work with partners to find ways to capture post-consumer plastics, convert them back into new packaging or find other useful purposes.
We believe through forming the right partnerships we can make a difference and improve the levels of recycled content collected, processed and repurposed in Australia.
We are a signatory to the Australian Packaging Covenant and complete action plans and annual reports detailing our commitments and progress. Click to access our 2020 Annual Report & Action Plan.
Sustainable sourcing
Water is a very precious commodity for us – it's not only used in our manufacturing processes, it is also the key ingredient in every one of our products.
Spring water, used in our water products, comes from various sources around Australia. By using multiple sources we can help ensure the sustainability of sources, and adapt our sourcing according to the local conditions.
We are members of the Australasian Bottled Water Institute, which means that we adhere to strict protocols around the extraction of ground water.
We undertake annual audits of our own and our suppliers' sites.
Risk assessments are undertaken at each source, and our sources are managed to minimise environmental and community impacts.
Sites operate under a quality management system with controlled and documented procedures.
Water use and quality is regularly monitored.